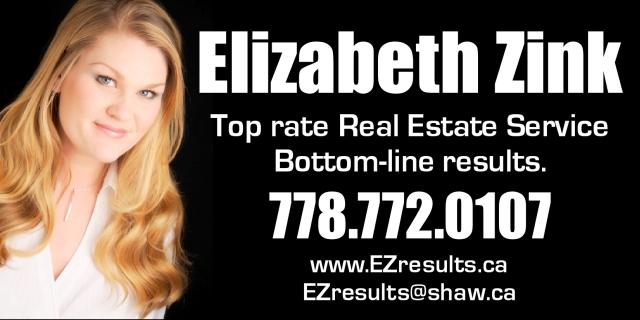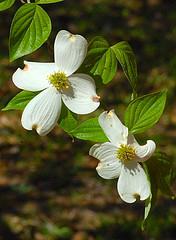 A strong negotiator, EZresults Real Estate Systems' team leader Elizabeth Zink
strives to provide the best service to her clients. She is a natural communicator,
resourceful and connected in the Tri-Cities area of Coquitlam, Port-Coquitlam &
Port Moody to provide the best service in the local Real Estate market.
With her win-win approach, Elizabeth Zink makes it a habit to be flexible, driven, and
up-to-date with training & modern information.
Understanding Real Estate as a lifetime investment, Elizabeth Zink's experience,
confidence & loyalty allow her to promote & protect her clients interests when
buying or selling in the marketplace.
"Born and raised" in the City of Coquitlam, from her early days in french immersion
at Hillcrest Elementary, she went on to Charles Best and graduated from Centennial
School before studies at Douglas College and UBC. After a variety of sales positions
and public communication roles - Elizabeth fell into the Real Estate industry by way of
her friendly & lively personality.
Formerly focused in project development, a dedicated team member at Concord
Pacific as a Sales and Marketing Assistant, Elizabeth worked to see the successful
sale of 20 high-rise developments, part of the $3 billion project changing the
downtown Vancouver skyline (the former Expo site) – Elizabeth is proud to have
worked with such an award winning team and leaders in the industry.

Combined with her natural marketing savvy, as a licensed BC Real Estate
Services Broker since 2006 - Elizabeth brings her development marketing and
sales experience working for one of Vancouver 's premier waterfront developer to her
home-town communities of the Tri-Cities.
Elizabeth 's heart is in the Tri-Cities - connected to her local church, volunteering with
community events, and on local election campaigns. A long time resident, having grown
up in the area, she has a deep appreciation for the natural beauty of our region.

When taking a break from the business, Elizabeth enjoys playing outdoors: launching
from Rocky Point Pier to boat up Indian Arm, walking trails at Port Moody's Inlet or
Coquitlam Town Centre's Hoy Creek & Lafarge Lake; hiking the local mountain
trails at Butzen Lake or Belcarra's shoreline park, and most recently developing
immense patience while river fishing. Her passion for helping change people lives
goes beyond helping people with a Real Estate move – Elizabeth is involved in
outreach community groups and personal development seminars.

Available to meet for coffee, or at the Keller Williams Elite Realty office
convenietly located on Lougheed Hwy at Shaunessey in Port Coquitlam,
Elizabeth is never too busy to return a call, schedule a meeting or service your
referals. Your real estate dreams are only a call away. Call today! 778-772-0107.